2021 Fall Bible Conference Theme:

"Teach Us to Pray"
October 25-26, 2021 – First Baptist Church, Horseheads, NY
With Keynote Speaker Ken Floyd, Executive Director of Michigan Association of Regular Baptist Churches (MARBC), speaking Monday 2:30, 7:00 pm and Tuesday 11:30 am.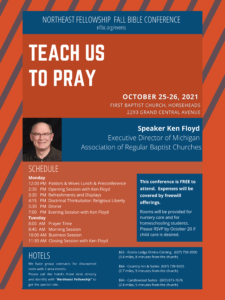 PASTORS AND WIVES PRECONFERENCE – Monday, 12:00-1:30 pm
In the Northeast Fellowship we love pastors and their wives! Check out their gallery of photos below.
At this fall conference, these ministry couples are invited to attend a free lunch and a time of updates from former State Representative Craig Golden and current Directors Brian King and Jim Vogel. It is our desire to provide connection and fellowship between church leaders and their wives for mutual encouragement in the work of the Lord.
DOCTRINAL "THINKUBATOR" led by Dr. Jim Vogel (Monday 4:15 pm):
Topic: A Biblical/Theological Defense of Religious Liberty championed by Baptists through history, often referred to as "individual soul liberty."
HOTELS
We have group contracts for discounted rates with 3 area motels.
Please call the hotel's front desk directly and identify with "Northeast Fellowship" to get these special rates.
(3.8 miles, 8 minutes from the church)
(2.7 miles, 5 minutes from the church)
(2.8 miles, 5 minutes from the church)
distributed as well.
Business and not-for-profit organizations who are in doctrinal agreement with the Northeast Fellowship may apply to display an informational booth at certain NF Events. Fees apply. Click the link above to download the appropriate form.
column_text]