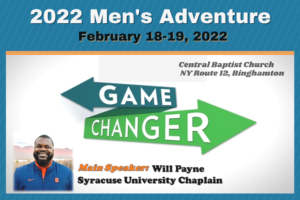 Hundreds of men gather each February for a Friday/Saturday Bible conference for men. Good preaching, unforgettable singing, practical help, great fellowship, recreational sport activities, and good food mark this Northeast Fellowship ministry.
February 18-19, 2022
Location: Central Baptist Church, 1606 NYS Route 12, Binghamton, 13903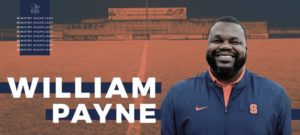 Will Payne, chaplain for Syracuse University Orangemen, comes to serve as the main speaker at this year's conference, "Game Changer".
COST – Early registration (postmarked by February 7, 2022)
$40 / person ; $35 / person for first-time churches and groups of 10 or more. Discount applies to early registrations only.
COST- Late registration (postmarked after February 7, 2022)
$45 / person; $50 / person at the door
ONLINE REGISTRATION:
https://ezregister.com/events/34609/
MAIL IN REGISTRATION FORM:
Please use this form when paying by check: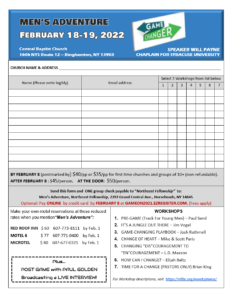 2022 MensAdventure Registration form
Video: Brian King interviews Syra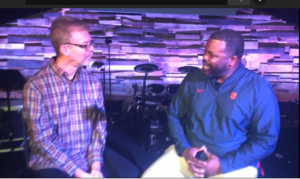 cuse University Chaplain Will Payne
Pre-Game: A special 3-workshop track for Young Men
This track serves as a "pre-game meet" for RECHARGE, our teen seminars in March!
Fight Well – Passive cowardice is not an option. Ignorant agreement or lack of conflict is not virtue. You live in a war zone, and God has called you to engage the enemy. How do you identify the enemy? What are his methods of choice? What does it look like to be a soldier of the cross?
What Do You Desire? –

So many people are enslaved to sexual sin, especially the sin of pornography. Yet the struggle is often endured alone in a culture of shame and secrecy, or fought on the level of discipline or will-power alone. What would it look like to walk into the light and enjoy the transformative grace of Christ?

Family Matters – 44% of marriages in America end in divorce. About 33% of children live without their biological father. Yet God ordained men to lead the home in love. As a young man, how should you prepare for marriage? How can you avoid falling prey to the statistical averages? What hope is there for the divorced or the fatherless?

(Pastor Paul Sand, Tabernacle Baptist, Poughkeepsie, NY)
2. It's A Jungle Out There! – This workshop covers biblical and practical perspectives on men and work. Gain encouragement for living for the Lord at your job. (Jim Vogel, Northeast Fellowship)
3. Game Changing PlayBook – We have been given the most important book to ever exist, the Bible. It can radically change our hearts, our lives, and our love for those around us. Come and see why studying this playbook of our lives is so important, and also some useful tips, and tricks to help you dig in deep every time you open your Bible. (Pastor Josh Rathmell, Faith Bible, Oxford, NY)
4. Change of Heart – Life Hacks for Balancing Work and Family – Feel like you're juggling too much? Like you're always torn between family and work or church? You're not alone! Join father and son, Mike and Scott Paris, as they offer Biblical, personal and practical tips on what a balanced Christian life looks like. (Pastor Mike Paris, First Baptist, Attica, NY and Pastor Scott Paris, Central Baptist, Binghamton, NY)
5. Changing "Dis"couragement to "En"couragement – In this workshop we will look at Elijah and his discouragement. We will learn what led to this time of discouragement and see some ways to overcome and avoid discouragement and be encouraged and encouraging. (Pastor LD Maxson, Lead Pastor of Host Church, Central Baptist, Binghamton, NY)
6. How Do I Change? – When we suit up for a game, we try to take off anything that would hinder us from playing well, and we put on gear that protects us and equips us to win. In this workshop, we will study Ephesians 4 and Colossians 3 to learn the "put off, put on" principle for wining against sin. (Pastor Elijah Beltz, Tabernacle Baptist, Ithaca)
7. Time For A Change (Pastors Only) – This workshop, offered on Friday night, gives pastors a time to get together, as we analyze biblical ways and means of helping Christ's cause and your church through change. (Brian King, Northeast Fellowship)
AREA HOTELS:
Traveling a distance? Check out special Binghamton hotel room rates in the registration form above. When you call directly, mention "Men's Adventure". But HURRY! Cut off dates apply.
Red Roof Inn, 650 Front St. – $63 * by February 1
Motel 6, 1012 Front St. – $77 * by February 1
Microtel, 400 Prospect St. $80 * by January 18
Quality Inn & Suites, 1156 Upper Front St. $89 * by January 16
Previous Years: