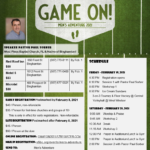 February 19-20, 2021
Hosted by Central Baptist Church – NY Route 12 – Binghamton, New York
Check out our Facebook page  for updates and videos.
IN PERSON – We're excited about this event being in person!  With Covid considerations, we're using common sense and caution, like in our church services, with distanced seating and with masks when not distancing.  You can register quickly at GAMEON2021.EZREGISTER.COM through February 18.
DAY OF EVENT WALK-IN – $50 per person
ONLINE – We're happy to also offer this event as a virtual conference online.  You can register at GAMEONLINE.EZREGISTER.COM, beginning February 20. Content will be delivered via email  February 22-March 29, 2021.
WE'RE LOOKING FORWARD TO . . .
a spiritual experience – with emphasis on getting in the game, living for Christ.
a safe experience – with plenty of room, masking / distancing, and special considerations for food handling.
a super experience – enjoying time in an environment that lifts up the Lord and will be uplifting to you.
GAME ON!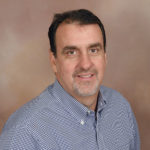 Speaker: Paul Sorber, Pastor of West Pines Baptist, Lake Worth, Florida
Cost: $40 if registered by February 8, 2020
$45 if registered before February 19.
$50 for walk-in's on the day of the event.
To register online with a credit card (fees apply)
To register by mail with a check (postdated by 2/8/21)
Schedule runs from 6 PM Friday – 3 PM Saturday.
It's the Christian life, and God wants you to get in the game!
Against the backdrop of a fun sports theme, we'll rally around the concept of getting up, getting down to business, and getting involved in Christ's cause.
Feel free to wear your favorite jersey and / or cap!
Extra events include:
Tailgating party at 5:00. We'll provide the grills while you provide the grub.
Plenty of prayer, fellowship, and food
Friday night activities: floor hockey & basketball, 2 volleyball courts (over 50, under 50), and Bible study at Central Baptist.
Friday Night Floor Hockey Rules.  Please read before joining us for this exciting event.
WORKSHOP DESCRIPTIONS
GAME ON!  MEN'S ADVENTURE 2021 WORKSHOPS
PUT ME IN COACH!  – Dave Mayo
This workshop considers how to disciple / be discipled.  As I Thessalonians 1:6-10 teaches, we need to become both followers of other believers and leaders to others .
TEAM SPIRIT – Scott Roloson
The New Testament emphasizes teamwork.  Christianity is a team sport.  This session highlights team spirit and team effort.
HALL OF FAME – Brian King
On God's stat sheet, what counts most?  What's most worth pursuing, and what has the biggest payoff?  Learn Scripture's answer, and how to make your mark in a way that matters to God.
PRACTICE!  – Paul Brown
"Perfect practice makes perfect."  How can you be ready to live for Christ?  It takes preparation and perseverance.
SPORTS & SOULS – Jamie Ellerson
Jamie, a missionary with Fellowship of Christian Athletes, describes how to use sports in winning others to Christ.
DYNAMITE IN YOUR DENTURES – Jim Vogel
This workshop helps with getting control of your speech.  It gives guidelines from the Bible and practical principles for application.
COACHES MEETING:  PASTORS ONLY – LD Maxson
Offered once, we have something special for pastors in this session.
COACHES MEETING:  COORDINATORS ONLY – Josh Rathmell
If you're coordinating your church's Men's Adventure group – or would like to lead a group, please check out this session.
Hundreds of men gather each February for a Friday/Saturday Bible conference for men. Good preaching, unforgettable singing, practical help, great fellowship, recreational sport activities, and good food mark this Northeast Fellowship ministry.