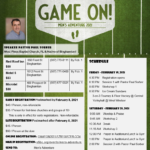 Hundreds of men gather each February for a Friday/Saturday Bible conference for men. Good preaching, unforgettable singing, practical help, great fellowship, recreational sport activities, and good food mark this Northeast Fellowship ministry.
THANKS TO
Central Baptist Church, Binghamton – our steady host through the years, plus, this past year, our worship leaders.
Paul Sorber – our main speaker, driving home the theme "Game On!".
You – for being a part of the event!
Coming in February
Men's Adventure 2022
Hosted by Central Baptist Church – 1606 NY Route 12 – Binghamton, New York
Check out our Facebook page for updates and videos.