Practicums
Northeast Fellowship hosts practicums for men to hone their ministry skills.
Groups from around a topic, then meet monthly for 6 – 8 months.
Here are examples from last year.


Preaching and Administration
Annual instruction ministries that involves 3-4 hour interactive sessions (modules) on practical ministry topics. The focus includes content, as well as significant discussion in groups of 6-10 pastors. Meeting location is determined by the participants.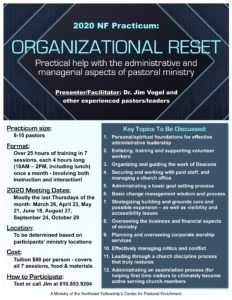 2020 Preach Practicum.pdf2020 Preach Practicum.pdfSave
Save