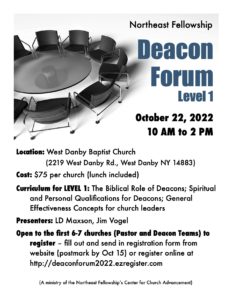 In keeping with our Northeast Fellowship Core Values, the NF offers two deacon forums each year to provide basic training for these church leaders. Pastors and deacons are encouraged to attend together.
Deacon Training Level 1
October 22, 2022 10AM-2PM
At First Baptist Church, West Danby, NY
To register a group of any size:
By mail – please include your check and this group registration form.
Online – Visit DeaconForum2022.ezregister.com.