Northeast Fellowship Church Dirctory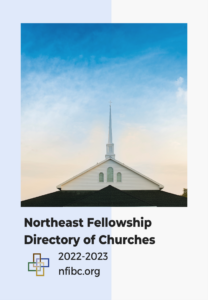 This newly updated directory includes an alphabetical listing of Member Churches, Camps, Mission Works, Pastor/Church cross reference, and Retired Pastors and Wives.
The directory is available as a paper booklet or as a PDF file that can be saved to your desktop for easy reference.
Please note: This site is not an e-commerce store and cannot provide instant downloads. We will, however, send your requested PDF directory by email within one business day of receipt of your order when using the link below. Thank you for understanding.
To order online, please visit our payment processor SquareUp or contact us by phone: 607-761-8028. Credit card only. The pdf directory will be forwarded to your email within one business day.
To order by mail, please include this order form along with a check made payable to Northeast Fellowship, 2293 Grand Central Avenue, Horseheads, NY 14845.
Please remember that this directory has been compiled primarily for the use of our churches in their networking ministries with one another. We request that it not be used for business purposes or for ministry/missionary support mailings without the specific permission of the churches themselves.