TUESDAY MAY 9, 2023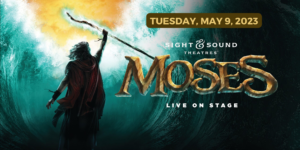 Save your seat today on the 2023 NF Bus Trip to Sight & Sound Theatre and Shady Maple Smorgasbord in Lancaster, Pennsylvania! Jim & Jeannie Vogel lead this special trip.
"Moses" Live on Stage Show – 3:00 PM
FAR FROM PERFECT, YET CLOSE TO GOD.
From the banks of the Nile River to the depths of the Red Sea, MOSES is a spectacular entertainment experience for the whole family!
Set adrift as a baby, he is an unlikely hero — until God calls him to lead His people out of Egypt and into the Promised Land. Journey with Moses as he ventures through the wilderness, encounters God at the burning bush, and ascends to the top of Mount Sinai.
Experience one of the Bible's most epic stories as MOSES comes to life with massive sets, special effects, and live animals in this original stage production.
$170 per person* includes
7:00 AM Depart Shafer's Bus Terminal
11:30 AM Shady Maple Smorgasbord buffet and gift shop
3:00 PM Sight & Sound "Moses" performance
Departs from Shafer's, 500 North Street, Endicott, NY at 7:00 AM and returns around 9:30-10:00 PM. Please plan to arrive around 6:30 AM. To request a pick up/drop off further along the route, please contact Jeannie Vogel at 810.853.9205.
* Due March 31, 2023. To register, pay the full price of $170 up front or deposit $90 now and pay the remaining balance of $80 by March 31, 2023. Deposit (less $50) is refundable. No refunds after final payment is made. Tickets are transferrable to other guests.
To pay online by credit card: Moses.Ezregister.com
To pay by check: please mail your deposit of $90 with this registration form.
All paper registrations should be mailed to: Northeast Fellowship Trips, 2293 Grand Central Ave, Horseheads, NY 14845
Save
Save
Save
Save
Save
Save
Save
Save
Save
Save
Save
Save
Save
Save
Save
Save
Save
Save
Save
Save
Save
SaveSave
Save
Save
Save
Save
Save
Save
Save
Save
Save
Save
Save
Save
Save
Save
Save
Save
Save
Save
Save