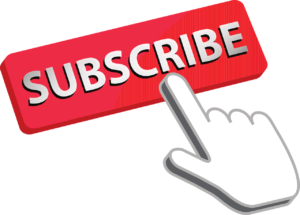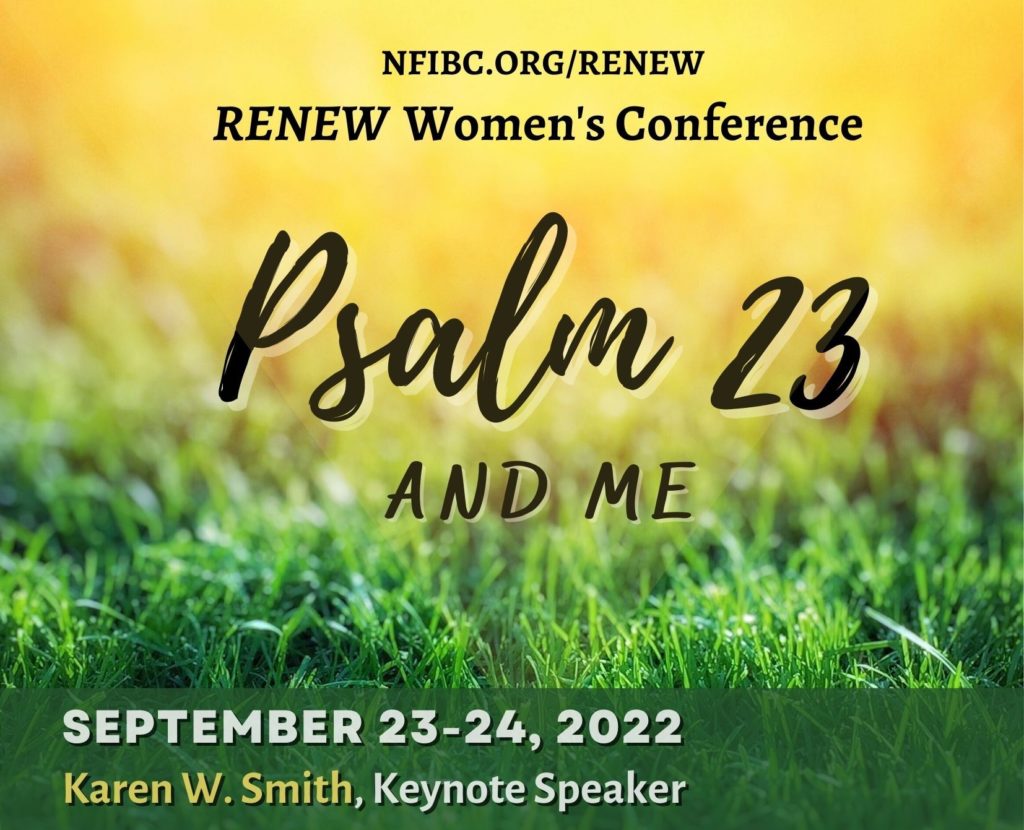 Welcome to the main site for everything related to the 2022 RENEW Women's Conference!
Event Hours: Friday 6:00 – 9:00 PM; Saturday 9:00 AM- 4:00 PM
Mail-In Registration Form – UPDATED with Discount for Teens!
Online Registration if paying by credit card. (Fees apply)
Psalm23 & Me Conference Brochure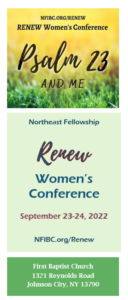 RENEW Women's Conference is a 2-day spiritually energizing women's retreat sponsored by the Northeast Fellowship each September in Johnson City, New York. The goal is to encourage women to RENEW their minds (Romans 12:2) as they hear and accept God's Word then live it out in their homes, churches and communities. It is designed for women ages teen through adulthood. Nursing mothers and their infants are welcome.
2022 KEYNOTE SPEAKER
Karen W. Smith has served as the Dean of Women at Word of Life Bible Institute – Schroon Lake since 2009.  Her role has included discipling, counseling, teaching, training and administering hundreds of young women over the years.
Having experienced the tragic loss of her husband before this role began, she relates well to those who grieve, to singles, wives, mothers, and grandmothers. She loves digging in the rich soil of God's Word to offer hope to women living for Christ wherever He has planted them.
Psalm 23 was a special Scripture passage to the female students during the challenges of the recent lockdowns. This well-loved psalm is rich with deep truth that offers comfort and confidence in every circumstance of life.
Karen is a talented and avid quilter. She is also blessed with 3 wonderful sons, 3 beautiful daughters-in-law and 6 of the most amazing grandchildren
WORKSHOPS
This year's workshops offer a variety of practical and biblical applications that will speak to women of all stages of life.
The Lord is My Shepherd: I Shall Not Want? (Barb Mowers) : As a veteran pastor's wife of 30+ years and a missionary to South Africa, Barb is ready to discuss this topic and uncover the Scriptural foundations for living a life marked by contentment.
He Restores My Soul: Finding peace after abuse, addiction and same-sex attraction. (Connie Rosenberger with Liz Lloyd). From victim to victory, Connie shares how in Christ she overcame sexual and substance abuse and broke free from same sex attraction. Connie's mentor and pastor's wife joins her in the retelling.
The Beauty of Our Shepherd (Amanda Sand). Join this pastor's wife as she leads us to pause and notice the timeless beauty of our Shepherd's character wile discussing how ti affects our everyday lives.
Shepherding a Child's Heart (Sharon Smith). With years of parenting experience and teaching on the subject, Sharon shares solid biblical parenting advice on how to speak to the real issues of a child's heart and ultimately influence his/her choices. Based on principles from the book by the same name (author Tedd Tripp).
Caring for the Littlest Lambs: Infant and Toddler Care (Panel members Kiersten Lanning, Juliana Leary, Katy Mowers). With 19 children between them, this panel of moms has advice for new moms, outnumbered moms, moms-in-waiting, aunties and even nursery workers who are looking for the "big idea" and the "little details" that make baby and toddler care a joy!
Understanding the Under-Shepherd and His Wife (Brian King). The Lord has given the Church representatives of Himself to serve us! These pastors play a unique role in our lives and deserve our loving support, prayer, and practical partnership. We bless them most when we love their wives and children too.
Leaving the Ninety-Nine to Seek the One (Julie Rosati). With a passion for life and the lost, Julie shares how she is involved in discipling the next generation in rescuing pre-born children from abortion, promoting a culture of lfie, and winsomely sharing the Gospel on the streets.
Unfiltered Part 1 (Kristen Cook). This 2-part set of workshops explores the communication "filters" of a 40ish Christian mom and a 20ish Christian daughter, generational filters that often lead to misunderstandings. We will learn how to gain perspective from each other's generation and see what we've been filtering out all along. Intended for our younger ladies (teens and twenties) as well as their moms.
Unfiltered Part 2 (Kristen Cook)
WORSHIP TEAM
The Leary sisters (Hamburg, New York) will return to lead the worship sessions with music and the spoken Word of God.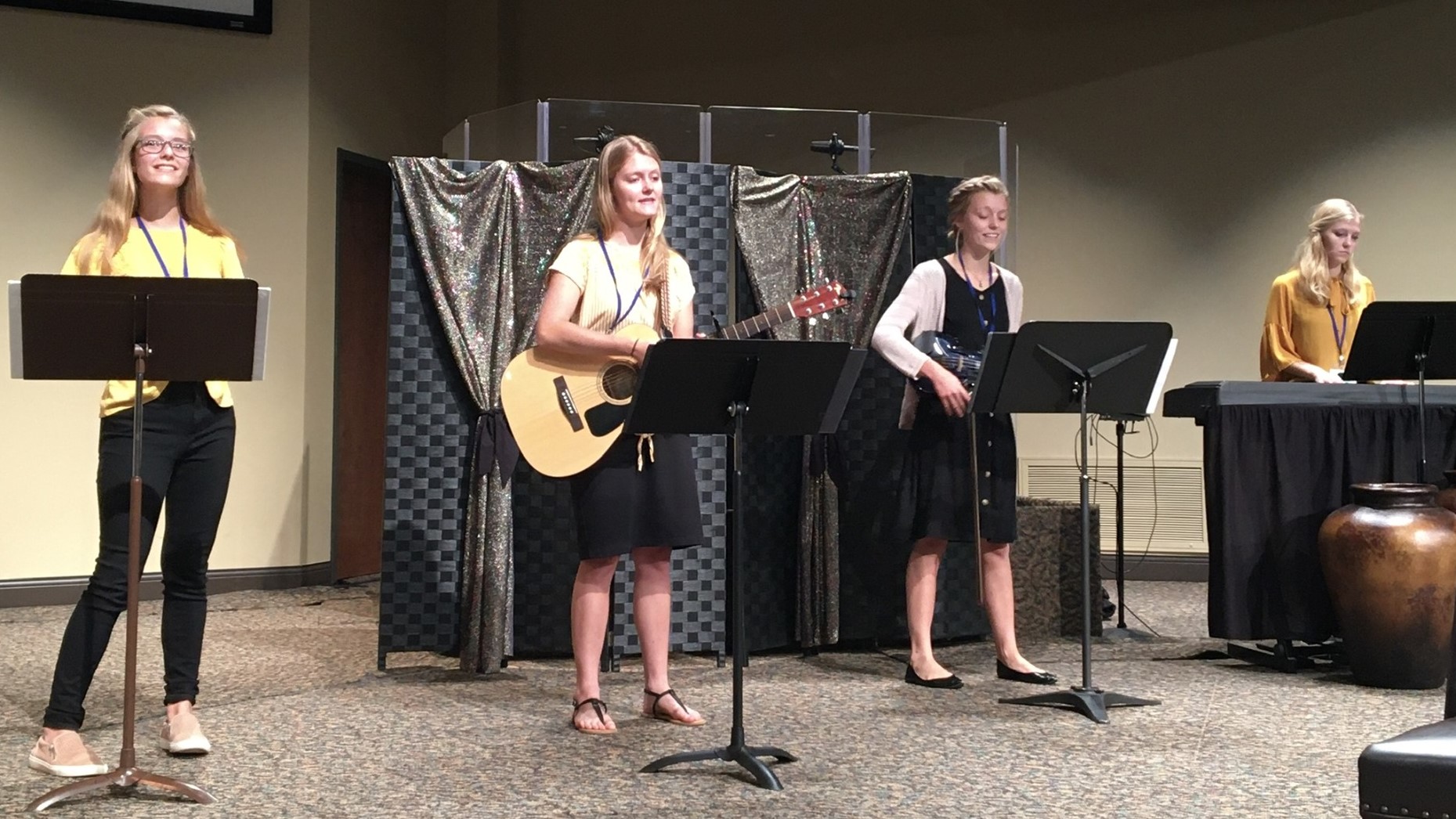 LOCATION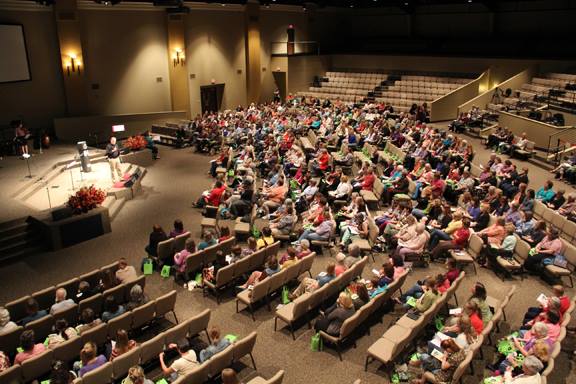 First Baptist Church, 1321 Reynolds Rd., Johnson City, NY
Tickets include Friday evening refreshments and Saturday lunch. Coffee, tea and water are available throughout the conference.
HOTELS
Binghamton, New York is a busy college town every September, so be sure to reserve your room(s) as early as possible to claim the discounted room rates before they sell out. Click here for a detailed list of cooperating hotels.
Be sure to mention "RENEW Women's Conference" when calling to reserve. Note: This rate is not available through third party agents or national sales offices, only the local hotel.
REGISTRATION OPTIONS
To pre-register online, go to Renew2022.EZRegister.com. Credit card only. Processing fees apply. Individuals and group registrations welcome.
To pre-register by check, download and mail this form with ONE check to "Northeast Fellowship/ Renew, 2293 Grand Central Ave., Horseheads, NY 14845. Payment must be postmarked no later than Sept. 9, 2022 for the best rate.
$60 for full conference, $47 for 1-day only (Friday or Saturday).
$70 (full) or $57 (1-day) when postmarked Sept. 10-20, 2022
$80 (full) or $67 (1-day) when postmarked after September 20 and at the door.
NEW DISCOUNT FOR TEENS! $15 off each teen registration (ages 13-19)
Online: Please enter discount code "TEEN" when using EZRegister. For multiple teens in one group entry, call 607-365-2169 for assistance.
Mail-In: Use updated Mail-In Registration form or write in "Teen Discount" at the bottom.
CRAFT BOOTHS
Do you have a business selling handmade goods? Earn money while you attend by renting table space filled with your beautiful crafts!
Prefer to shop instead? Here is the easiest way to "shop local" and support Christian business women at the same time.
Note: The remittance of sales taxes is the sole responsibility of the seller.
Craft Vendor Contracts are available by clicking this link or by contacting Craft Corner Director Amy Rathmel at figureskatingamy@gmail.com
NEW this year! QUILT SHOW
"In the quilt of life, friends are the stitches that hold it together."

"To quilt is human. To finish is divine."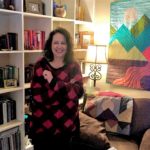 With a nod toward this year's Keynote Speaker, Karen Smith, who is an avid quilter herself, all interested conference guests are invited to bring ONE homemade quilt of their own to display on-site for all to enjoy (maximum of 50 in-house). Bed size quilts, lap quilts, table runners, wall hangings, clothing, etc. are all acceptable as long as they are homemade and not manufactured commercially.
Although this is not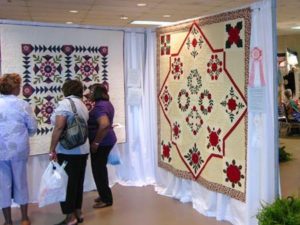 a formal "quilt show" with adjudication and awards, each entry will be clearly labeled with the name of the pattern, the background story, and the person who entered the quilt.
To participate, please read and submit a Quilt Display Application by September 15, 2022.
As a "thank you" for participating, each quilter will receive their choice of a free quilt pattern.
SPECIAL LOVE OFFERING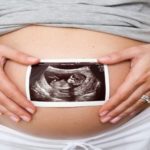 This year we have witnessed a tremendous cultural shift regarding the sanctity of life, especially in the wake of the reversal of Roe v. Wade. Pregnancy centers are experiencing increased threats and even violence while offering valuable medical care and compassionate counsel to women and men facing unplanned pregnancies.
This year's love offering will be directed to several Christian pregnancy resource centers in New York State that stand for biblical standards of life. Thank you for your prayerful part in coming alongside these ministries in this way. Cash and checks accepted.
FAN FAVORITES
Time to worship and sit under solid Bible teaching!
Your choice of 3 additional practical workshops!
Christ-exalting worship, a mix of new and famliar songs, the sound of hundreds of ladies' voices in harmony!
Wholesome refreshments and deluxe salad bar lunch catered by Dave & Sue O'Donnell (Newark Valley, NY)! Gluten free options available.
Shopping on-site at Arrowhead Parable Book and Gift Store (Johnson City, NY)!
Door Prize drawings!
Time spent away with friends!
DIGITAL CONFERENCE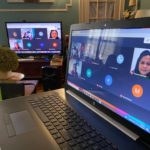 Prefer to watch at home or with your church group? This year's 3 main session messages with Karen Smith and select workshops will be available digitally the week following the conference.
Available for purchase August 1-October 31, 2022 at RENEW22online.EZRegister.com.
$32 Online viewing (not livestream). To watch later on YouTube (restricted access)
$42 USB Flash Drive (no internet required)