Brian King
607.365.2169 / bking@nfibc.org
Our fellowship has long been home sweet home for Brian King. Blessed to be the son of Pastor Thomas and Joyce King and belonging to our churches in Binghamton and Cornwall, he was taken in by God's grace at an early age.
Growing up in our local churches provided great education and experience. Additionally, influenced by the example of his dad and a burden for the size of the need, he sensed a call to pastoral ministry. Formal training followed at Baptist Bible College and an internship at North Baptist in Rochester. The internship also provided an introduction to Judy Runge! The two met in '91 & married in '92. Judy brings great talent and teamwork in ministry, especially music, Sunday School, women's ministries, and social media.
1991-2010 – Peoples Regular Baptist Church – The Hudson Valley years were the adventure of a lifetime! Starting a church in a needy area and as a minority brought an uphill battle and brought out God's great power. The church began in Newburgh in the metro NY area. The early years included meeting in a funeral home (!), a YWCA, and a Grange Hall. The core group formed a close bond and grew together through study, meaningful prayer meetings, and caring for one another.
PRBC found its place in its own building and property in Maybrook, developing a true mission mindset and frontline ministry. A strong and special bond with the town and also its local government allowed the church to flourish. Outreaches such as Answer to Cancer, Bread of Life, Homework House, and Kids Café served needs and shared the gospel with many. Major renovations were done and adjacent properties were purchased. Ultimately, the Lord allowed a larger tract to be secured just across the road.
2010-2018 – West Windsor Baptist Church – The West Windsor years were a storybook! God routinely worked in special ways that had His unmistakable fingerprints all over them. From souls saved to lives changed, the congregation experienced the unique joy that comes from being a happy and healthy local church. West Windsor rallied together around themes of personal spiritual growth and heartfelt service.
The church's big heart for people led to strong outreach efforts through major events on the church property and through missions projects, including short-term trips to WWBC missionaries, and the commissioning of two missionary families. And, in the final year, generous giving eliminated the remaining $147,000 mortgage.
Taken together, the two churches have been excellent preparation for this new role: one downstate, one upstate; one newly formed, one well-established; one as a solo pastor, one working with a staff. The Kings love the churches of the Northeast Fellowship and have served full-time since September '18. It has been the great joy of their lives to serve Christ in these ways, and they look forward to how He leads next.
Jim Vogel
810.853.9204 / jvogel@nfibc.org
Jim Vogel accepted the invitation of the churches to become Executive Director in October 2011 and served in this role from 2012 to 2020. He continues as Associate Director.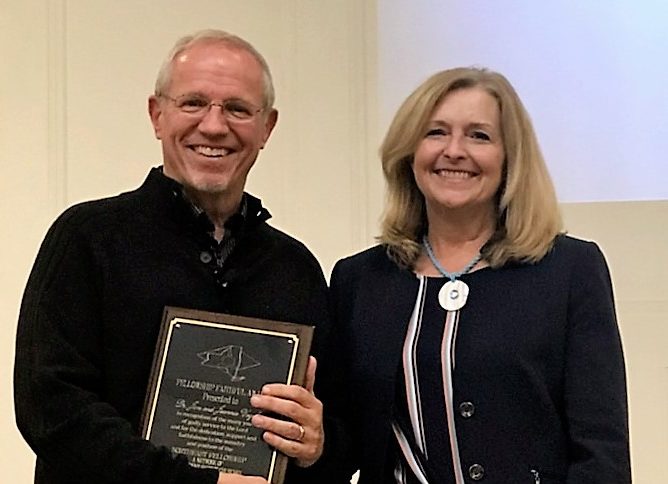 In their previous ministry, the Vogels were assisting pastors and churches nationwide by providing counsel, instruction, and encouragement. Describing how this work changed his ministry outlook, Vogel said, "I think I have a better understanding of the breadth of ministry in our churches. I have a greater appreciation of the small-church pastor—as well as those in larger works.
"I love what I do—that's why this position is so appealing to me," Vogel says. "I like encouraging and supporting our pastors and leaders. This is a right fit for us—we'll continue to do these things."
Jim served in youth and senior pastorates for 30 years, and earned a doctor of ministry degree from Trinity Evangelical Divinity School. He was formerly the director of the Empire State Fellowship Talents For Christ program and was a member of the Empire State Fellowship Council of Ten. He recently compiled and edited a book on Pastoral Theology called, The Pastor: A Guide for God's Faithful Servant.
Jeannie Vogel (MA in Biblical Studies from Summit University) will continue her speaking and writing ministry. She has authored four Bible Studies (rbpstore.com): Meeting Jesus in the Gospel of John; Accepting the Challenge: Leadership Lessons from the Life of Moses; Our Sovereign God (a study of the Book of Ezra); and Engage- Influencing Your World Like Jesus.
Our previous directors include Craig Golden (1988–2012), Russell Camp (1975–1987), Milo Thompson (1971–1975), and L. Duane Brown (1965–1970).