Coming in 2023
Our 2023 Men's Adventure encourages every man to be a leader,
fulfilling God's calling on him at home, church, and in the world.
Main Speaker Toby Locke will preach in our main sessions.
Workshop leaders add practical help on our topic.
Make plans now for
February 17-18, 2023, Central Baptist, Binghamton.
ONLINE REGISTRATION:
https://TakeTheLead.ezregister.com
MAIL IN REGISTRATION FORM:
Please use this form when paying by check: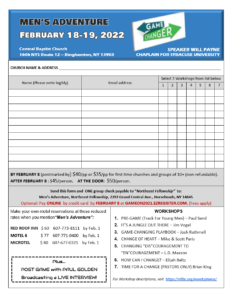 2022 MensAdventure Registration form
AREA HOTELS:
Traveling a distance? Check out special Binghamton hotel room rates in the registration form above. When you call directly, mention "Men's Adventure". But HURRY! Cut off dates apply.
Red Roof Inn, 650 Front St. – $63 * by February 1
Motel 6, 1012 Front St. – $77 * by February 1
Microtel, 400 Prospect St. $80 * by January 18
Quality Inn & Suites, 1156 Upper Front St. $89 * by January 16
SCHEDULE
FRIDAY, FEBRUARY 17
4:30 – Registration begins.
6:00 – Opening Session with Toby Locke
7:30 – Workshop #1
8:15 – Ice Cream Sundaes
SATURDAY, FEBRUARY 18
8:45am – Main Session with Toby Locke
9:45am – Workshop #2
10:30am – Break
11:15am – Workshop #3
12:00/1:00pm – Prayer & Lunch Sessions
2pm – Finale
---