The Northeast Fellowship Church Directory
Now available in Booklet and PDF digital formats.
Churches or pastors can request a copy by writing to our NF office at 2293 Grand Central Ave., Horseheads, NY 14845 with your $6 donation for the paper booklet or $3 donation for the PDF digital format (email address required).
Please remember that we prepare this directory for the use of our churches in their networking ministries with one another. We request that it not be used for business purposes or for ministry/missionary support mailings without the specific permission of the churches themselves.
To pay by Check, please include this order form with your payment.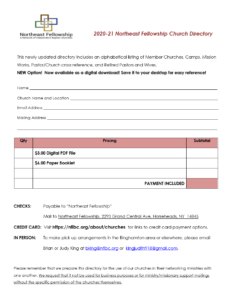 To pay by Credit Card:  $6 Booklet  or $3 Digital PDF