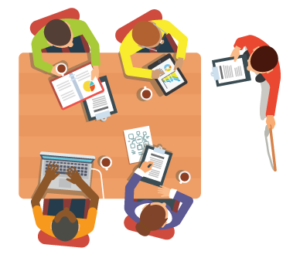 We desire to assist churches with their need to provide teacher training – as well as practical instruction toward strengthening the overall Sunday School ministry, children's and youth programs, VBS and more. While Dr Jim Vogel leads the majority of the clinic workshops , various other NF presenters are available to join him at specific church sites to teach, as well, usually on Saturdays, for a group of churches in a local area desiring help.
Contact Jim Vogel if you are interested in hosting or attending one.
Options for teacher training clinics:
Revitalizing the Sunday School. A two part workshop that focuses on a review of the overall value of Sunday School ministry – along with 14 practical ideas for enhancing its effectiveness
8 Effectiveness Factors for Teachers. A consideration of general areas of responsibility that mark the most effective local church teachers.
Teaching Adults. Specific help for Bible teachers of adults.
Teaching Teenagers. Specific help for Bible teachers of young people
Teaching Children. Specific help for Bible teachers of children
Recruiting Volunteer Workers in the Church. A proven 6 step plan for effectively enlisting teachers/workers for Sunday School, VBS, youth and children's programs, etc.
10 Crucial Questions every Local Church Servant-leader should ask himself/herself. A review of a series of self evaluation questions related to ones spiritual life and commitments – that form a basis for success in any ministry.
Help for Superintendents and CE ministry coordinators. Practical input on curriculum selection, overall coordination of education ministries, teacher training ideas, concepts for growth, etc.
Basic Bible Study Skills for Teachers. A popular summary of Bible study principles (observation, interpretation, application) that can benefit any local church teacher.
The Bible we Teach. A look at the "big picture" of the Bible – its unity and overarching themes – along with a discussion of the types of writing in the Bible with teaching tips for communicating each effectively.
Families at Risk. A review of 7 cultural trends in marriage and the family with which all church workers should be familiar as they minister in the education ministries of their churches.