20/20 T-Shirt Sale
The Covid-19 pandemic arrived just as the ReCharge Youth Seminars were about to begin!
After holding out hope for a rescheduled date, the entire 5-site event was eventually cancelled – and 650 T-shirts remained in their original shipping boxes.
OUR LOSS CAN BE YOUR GAIN WHEN YOU PLACE AN ORDER FOR A DONATION OF ANY AMOUNT.
For bulk ordering consider
Teen end-of-year party
Church photo shoot
Community outreach event
Family gatherings
Operation Shoebox, Angel Tree or other giving projects
These shirts have no text or branding other than "ReCharge" and "2020".
For more information on how to order, click on the form below.
Credit Cards and Checks accepted.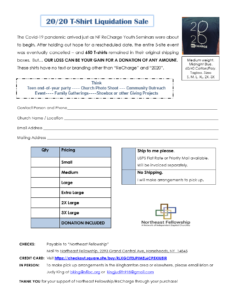 This annual Northeast Fellowship ministry, held each year in March, focuses on Bible teaching, practical workshops and relevant praise and worship geared to teens.
Over 800 young people attend these Friday/Saturday seminars, which are held in five locations across New York state. The goal is to inspire, encourage, and challenge teens toward Christian growth through worship, fellowship, and teaching.