April 27, 2024 | 9 AM – 4:30 PM | Breesport Baptist Church, NY
Join us in 2024. Here's a peek at our 2023 event:
This one-day Volunteer Ministry Training Conference is designed with church volunteers and ministry leaders in mind.
This conference has no main speaker but allows attendees to choose as many as 6 workshops that connect with their individual ministry goals, including:
Men's, Women's, Student (teen) ministry
Children's ministry
Sunday School
Music and Worship Leadership
Outreach and Evangelism
Biblical Counseling
and more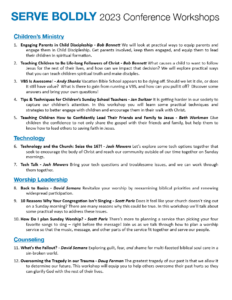 TO REGISTER:
$25 per person or $40 per married couple Price includes lunch, materials, and give-aways of FREE educational resources.
Please preregister by April 19, 2023 (postmarked). Add $5.00 per person after this date. Walk-in's are welcome. Sorry, no refunds.
To Register Online: Serve2023.EZRegister.com